Auntie SparkNotes: Is He Cheating on Me with Porn?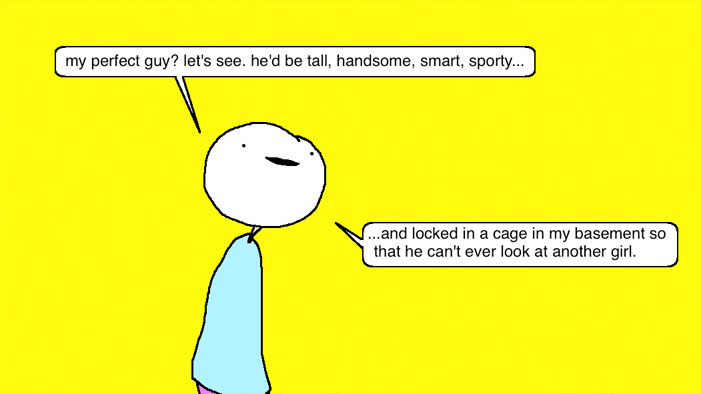 Dear Auntie,
I recently found out that my boyfriend "occasionally" watches pornography. He and his friend were talking about porn and he said, in front of me, "Yeah I want to give that up for good." And I was like, "WTF DID YOU JUST SAY???"
He told me that before he met me (we've been dating for a year) he watched it everyday and now he only watches it a few times a month. I believe him. He told me that he never feels good afterwards and wants to stop. After I started crying, he promised me he would stop.
Am I being a psycho jealous girlfriend or do I have a right to be feeling betrayed and honestly even cheated on? I'm grateful for his promise. But at the same time, I can't look at him the same. I can tell he feels awful (I don't think he was expecting me to react this way? Not sure why?) But I'm super pissed and I feel really unsure about it. I know I'm a catch and shouldn't compare myself to porn stars but :////. I love him and I don't want to end it but like UGH I tear up every time I think about it. I told him I wanted space. It's been a few days.
What do you think? Do I need to chill and get over my pride?
Now, there's an interesting choice of words. Because pride is one thing, and it can be a good thing, but it's also a very different thing from, oh, say, working yourself into a state of sobbing near-panic over what your boyfriend thinks about while he chokes the bishop.
Which is why I'm going to go ahead and suggest that chilling should definitely be on your to-do list. I know you're upset, but your reaction is awfully out of proportion to the precipitating event—particularly the part where you say you can't look at your boyfriend the same way over something that every single person in the entire horny history of the world either has done, will do, or (ahem) is currently doing right this minute in an incognito browser window. (Yes, you. I SEE YOU.) Yes, it was dumb and insensitive of him to talk about this in front of you in the first place; and yes, it would have been nice to keep laboring under the delusion that your boyfriend was incapable of getting a boner in any context outside your relationship—because you're just that fantastic and he just loves you that much. But the truth is, the best, most loving, most loyal guy you'll ever meet is still going to be attracted to other people, and to have masturbatory fantasies that don't always include you (with or without the assistance of certain, ahem, visual aids.)
And while you don't have to love that, you do have to make peace with it, simply because the alternative is to exist in a permanent state of grasping, impotent misery over your inability to control the contents of other people's heads.
Meanwhile, I'm going to go out on a limb and guess that your boyfriend simply doesn't see pornography as the unforgivable betrayal that you do, which would explain why he wasn't expecting you to treat his offhand mention of it as The Shocking Horror to End All Horrors. And for what it's worth, most people—even those who find porn distasteful in general—would still consider it a stretch to call it cheating, which is why I'd like to suggest that you spend a little time unpacking the part where your BF watching a sex act on video apparently makes you feel as betrayed as if he'd participated in one himself. Specifically, I'd like you to ask yourself: Have you ever been attracted to someone who isn't your boyfriend? Is your romantic and erotic imagination so narrowly and utterly focused on him that you've never entertained those kinds of thoughts, no matter how fleeting or superficial or silly, about another person? If you watched a romantic movie and felt all swoony when the central couple finally locked lips, would you describe that as a betrayal of your guy, and would he be justified in feeling cheated-on? What if you got turned on by it? What if you dreamed about it later and woke up all sweaty? How much control can someone else really claim over your thoughts, your feelings, your fantasies, and/or the way that kissing-in-the-rain scene from The Notebook makes you feel in your heart (or your pants)?
If you answer these questions honestly, I think you'll begin to get a better understanding of the difference between infidelity and imagination—and why people in healthy relationships draw the line at trying to control the latter. It's not even about pornography, specifically; it's about respecting your partner's autonomy and boundaries, just as you'd want him to respect yours. And hopefully, you'll begin to grasp the pointless nature of being threatened by porn stars, who at the end of the day are just actors playing a role. It's as silly to compare yourself to them as it would be to compare yourself to a character from The Hunger Games.
From there, you have two options. Option 1: to a) put your boyfriend's history with pornography out of your mind, and b) kindly but firmly request that he be discreet and never mention it within earshot of you again, because regardless of whether he actually goes cold turkey on porn forever (side note: not the likeliest of outcomes for a red-blooded horny teenage human in the digital age), it makes you feel better to imagine as much, and that's fine. But if you take this option, you'll also need to stop putting pornography in its own special category of Hideous Secret Betrayal, and start lumping it in with all the other stuff your boyfriend probably does in private that you prefer not to think about—like nose-picking, or scrotum-tweezing, or getting into political slapfights with Pepe avatars on Twitter. (Keeping in mind, too, that there are certainly things which you do and think and feel that he wouldn't love knowing about, even though they cause no objective harm.)
Or of course, you can break up with him , which is definitely what you should do if you can't stop dwelling on this. But if that's the case, your next step will be to address the control issues that made you unable to cope. Because they're unhealthy and they don't serve you, but also because your chances of finding a romantically-compatible guy who has never seen pornography in his life are about the same as encountering a unicorn… and even the unicorn will have fantasies about having his, uh, horn touched by other people.
Got something to say? Tell us in the comments! And to get advice from Auntie, email her at advice@sparknotes.com.
Want more info about how this column works? Check out the Auntie SparkNotes FAQ.