The Answer Is: Make a Zine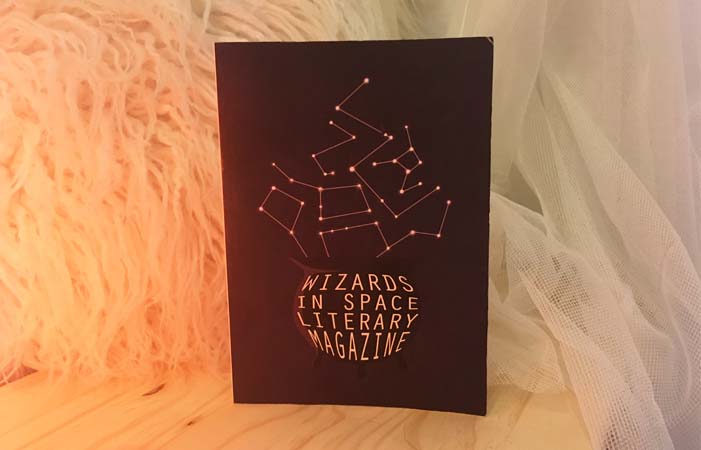 The streets of heaven are crowded with people trying to sell their manuscripts. And in the aftermath of NaNoWriMo, the inboxes of literary agents look basically like this. (Don't give up hope, tho! Pitch, pitch, pitch!)
Still, maybe after NaNoWriMo all you have are 30 started-then-quickly-abandoned stories. Maybe you have been trying to "shop" a manuscript for five long years and you're starting to suspect alien space operas don't translate well to the printed page. Maybe, try as you might to recreate the formulaic success of Twilight, you are just bent on the kind of visual/multimodal/cross-pollination that has no place in establishment publishing. Maybe you are a poet or a writer whose "unorthodox/esoteric/quirky" work cannot get past the gatekeepers of the online media world. For you, the answer is clear:
MAKE A ZINE.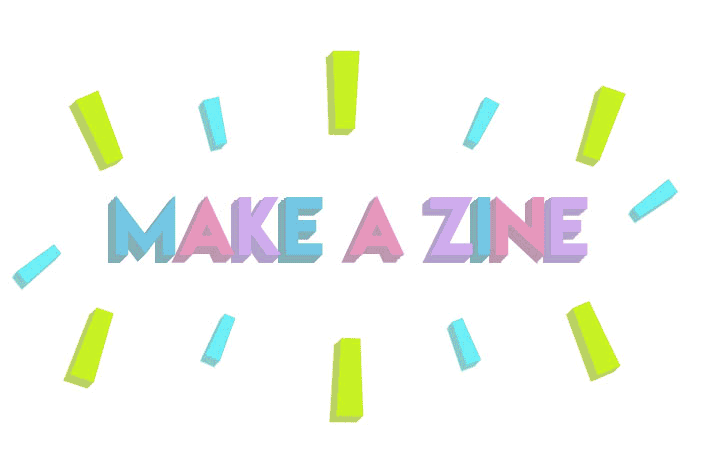 Zines were once a thing. Alexander Hamilton was a superfan of zines, although back then we called them "pamphlets." Then, in the 1990s, people got really into photocopying and stapling, and zines had another moment, a nice counter to the glossy Cosmopolitans and establishment Vogues of the world. This was, of course, before Wattpad and tumblr and Creepy Pasta cropped up to allow you a place to share your Jurassic fanfic work. In turn, those sites created a new market for niche art, and a whole new wave of awesome zines.
Just ask Spark alum Olivia Dolphin, publisher of the Wizards in Space zine, a "space for wizard writers," who ventured into the world of indie periodicals after finding that her Jurassic World fanfic (real!) had a real audience on tumblr and Archive of Our Own. 
As Olivia, who is currently crowdfunding the second issue on Kickstarter, explains the drive to publish a zine, "There is something so magical about holding your work in your hand, feeling the texture of a cover, the way the pages smell when you flip to your own piece, the way you can pull something tangible off your own bookshelf and look at your own work. I wanted to give that opportunity to other writers."
Oh, I get it, look how beautiful this thing is:
Y'all. @wzrdsinspacemag is SO GOOD. pic.twitter.com/DYaV6atvRx

— Janae Phillips (@janaeisms) August 10, 2016
So what went into this fab lit mag? Over 200 submissions, a Kickstarter campaign, a fresh graphic "look," and collaboration with a "craft" publisher of short-run titles, Bookmobile, for the 200+ orders. Trust, every small detail received attention: "The best part of the publishing process was seeing it come to life. We worked with a designer, Hanna Rose Katz, who did all the inside work. I wanted a nod to our Harry Potter roots, so we made our own 'chapter star' next to all the pages. Hanna also created amazing pages to separate genres that look like planetary paths and totally fit in with our vibe. Riley Wackernagel designed the cover with a nod to space AND magic, and when it comes together like that... that feeling is unbeatable."
If you want to order a short-run of your zine, Bookmobile have put out all kinds of interesting projects, like the Body Split flipbook for lit journal Anomalous Press—one story reads in one direction; when you get to the end, turn the book upside down and read back through the other (ahhhhhh!).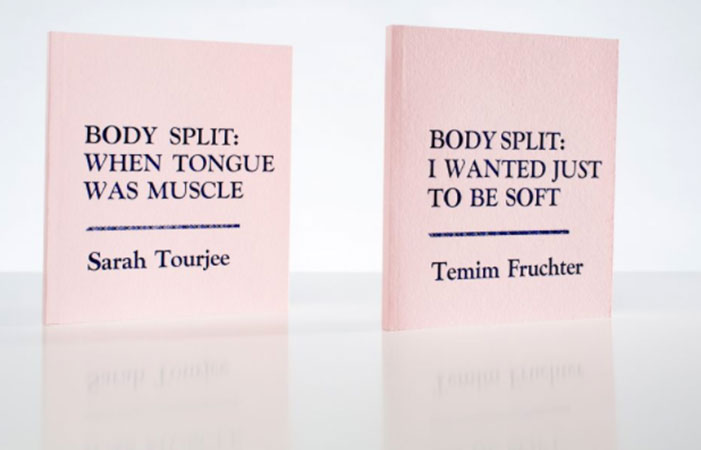 Bookmobile/Anomalous Press
You can also go the more handmade route by old-schooling things with a Xerox, or even skip the physical printing, like Sarah Mirk did with her anti-Trump zine, available for download and catharsis here.
If you're thinking vaguely about collabing with your friends or peers on a zine, or are just interested in consuming literature or art that isn't as homogenous as the usual big-name stuff, Olivia is uber-enthusiastic:
"Zines encourage a DIY empowerment in writing that can be hard to come by. You can print your own, draw your own, hand write, and so on. Mess-ups are encouraged and give zines more personality and an authenticity to them. Zines can be political and used for activism and awareness, or they can be personal writings, but most importantly, they are for everyone. Zines do not discriminate."
Remi Riordan created the for-teens-by-teens zine Crybaby (aesthetic: ahhhhh) with some friends in her sophomore year of high school after rejections from big, mainstream publications on her writing and photography.
"I decided I could create my own zine where my work and the work of my friends always had a home," she told us via email. "Two years later, we have more than 10,000 followers on Instagram and 4,000 readers on our website." And, ~no surprises~, since becoming a zine titan, Remi has had the opportunity to work for some of the banner publications she was once inspired by (think i-D, Dazed, and Rookie).
Another Spark original, Elle Esquivel, has JUST PUBLISHED her first zine, November: An Illustrated Journal, and it is  🙌🙌🙌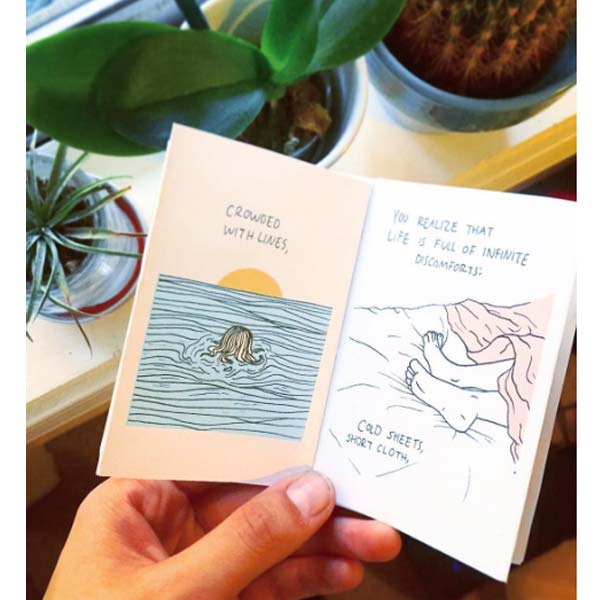 Instagram/elesquivel
Click through to her shop here to get your tiny hands on a tiny copy.
For our part, we cannot get enough of this stuff. We are, as you know, suckers for art, and sometimes it isn't enough to be able to paper our tumblr with all the glorious digital art. Sometimes you want that art in your house irl. This is where the glorious Home Zine (available here), published by artists Tallulah Fontaine and Carla McCrae, comes in. Below are a couple shots from the third issue (theme: people).
Do you see why we had to have this?
It is a golden age for making and buying zines, and we would love for you to share your zine recs in the comments. In the meantime, we asked Olivia for her hottest #zinepick: "I am obsessed with Janae Phillips' zine, Food, Waste + Capitalism. Janae made her OWN PAPER covers for this FROM HER OWN PAPER TRASH. It's a zine that carries its message of 'zero waste' all the way through, even to the creation of the thing you're reading about and from. It's powerful, and what zine culture is ALL ABOUT."
Some zines to check out:
My Mother's Footsteps (PDF)
Crybaby Zine (for teens, by teens; available for order online)
TarynDraws (limited edition)
Food, Waste + Capitalism (handmade; available for order)
Home Zine (three issues available for order online)
Wizards in Space (currently crowdfunding the second issue)
Trumpzine (PDF)
November: An Illustrated Journal (available through Etsy)
Which zines did we miss and which must we add to our shopping carts, post haste?!