We'll Always Have Snogging: A Tribute to Louise Rennison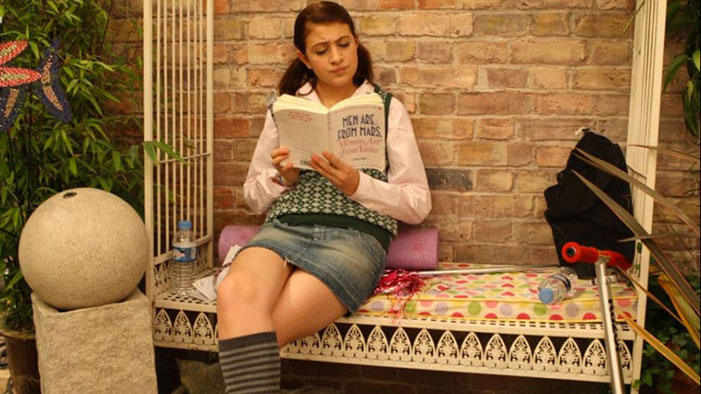 This past week, we lost one of the great unsung heroes of YA literature. Louise Rennison was the author of Angus, Thongs and Full-Frontal Snogging, Dancing In My Nuddy-Pants and a bunch of other books. She was the creator of Georgia Nicolson, a loud, brash British teen who came as a stark contrast to the more conservative characters in Judy Blume books. (Not that Judy Blume and her characters aren't awesome!)
I found Louise Rennison kinda late. I was in high school when I saw a bit of her work performed on stage, but her books were really aimed at middle schoolers. I liked how natural all the dialogue and descriptions felt—and funny. Louise got her start as a performance artist, performing one-woman shows about a bunch of topics, but essentially telling funny stories over and over. I wish they were on YouTube. Her writing voice was hilarious—I can't count the times a piece of her dialogue has sprung to mind when I'm running to a job interview and worry my boobs are going to swing too far and hit me in the face, or I walk into a party and think,"Can anyone tell that I'm wearing my granny panties today?", or I have a sudden urge to "run away laughing on a fast camel, " or I'm nicknaming crushes in my head (never forget the guy Georgie nicknamed "the Sex God").
Louise just got it. She understood what it is like to be an actual teenager. You've had underwear worries. You've stalked-but-not-really-stalked crushes. You've thought about what you look like beyond the point of sanity. Louise wrote about these moments, paving the way for teenagers to be written as a little less perfect and a little more hilarious.
Part of Louise's legacy was the fact that parents and teachers sometimes hated her. Angus, Thongs and Full-Frontal Snogging has been banned so much that it made it to 35 on the list of the Top 100 Banned Books of 2001-2009. Top one was Harry Potter, natch. But Louise was "Pssssh, whatevs" about it all. She wrote what she wanted to write about teenage girls doing, even if it made their parents uncomfortable.
So, thank you, Louise. Thank you for the weirdness. Today, I wave my granny pants back and forth to the sky. With pride, dang it.
Have you read any of Louise Rennison's books? Feel free to honor her in whatever way ye please in the comments.