How to Write a Creative College Essay That Stands Out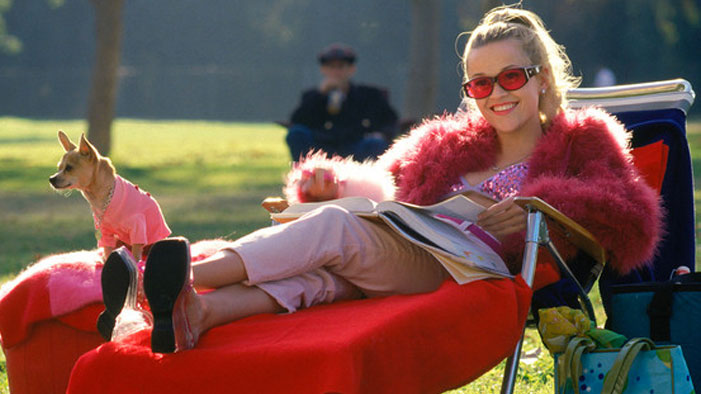 You might have a "great" admissions essay about the time you volunteered in Haiti for five days stuffed in your cannon, ready to fire off at the next college that catches your heart, but if you want to stand apart from the crowd and wake a sleeping admissions officer from their slumber, you're better off going with something ~original~. But what?! Is your fever dream about the time you went rollerblading with Loki along Venice Beach really college-application material??
To help you get a sense of what you might want to write about, we rounded up a bunch of daring girls who went with something a little unusual in their admissions essays. Their quirky topics will hopefully spark something a bit more you when you next find yourself sitting down with a document tentatively titled: "Application: THE REST OF MY LIFE." Good luck!

Name and College: 
Nicole, Syracuse
Topic:
I about a fictional tea party of the famous people I wanted to meet, living or dead.
Tell us about it: 
I chose it out of all the crazy essay options on UChicago's self-titled "Uncommon Application." I don't remember everyone I invited to my tea party, but I know Joan of Arc and Charlie Chaplin were there and got in a brawl. Of course Joan spoke only in French (thanks Babelfish!) I didn't get in to UChicago  :-P

Any advice for teenagers applying to college? 
My advice is to write about a topic that is unexpected. These essays tend to sound really trite, especially if you pick an obvious topic (e.g., that summer you built houses in X country and learned a lot). You will get bored writing  these essays, and you don't want the admissions people to get bored! So pick something unexpected to demonstrate the same lesson (e.g. what you learned that time you got fired).

Name and College: 
Emma Barishman, Long Island University, CW Post Campus (usually abbreviated as LIU Post)
Topic:
"Write about someone who inspires you."
Tell us about it: 
This essay topic was given by CU Boulder, which is the school that my older brother attended. I chose to write about how his hatred for my constant singing inspired me to pursue a degree in musical theatre so that I could keep singing. My goal is to one day give him a nod in my Tony speech: "Thank you for telling me not to sing, because it only made me want to sing more!" I ended up getting into the school, accepted by the same admissions counselor my brother had!
Any advice for teenagers applying to college? 
Find the place that is the right fit for you. It doesn't matter where your friends are going or where your parents went (or where they want you to go). You need to feel safe, comfortable, challenged, and that you can find a group of friends on whatever college campus you end up on. Also look at the surrounding area; is it a college town or a residential area?

Name and College: 
Christy Tomecek, New York University
Topic:
It had to do with someone or something that influenced you and made you the person you are.
Tell us about it: 
So it actually was an essay about my favorite high school English teacher and how he made me into a better writer, student, and person, but since I'm "that goth girl," I wanted to make sure that I expressed my love/obsession with the movie The Crow. I opened the essay with a brief description of the movie (how it is a love story/revenge story where the protagonist comes back from the dead a year after he's murdered and his fiancee is raped and murdered to kill the people who were responsible) and then described a scene where Eric the protagonist is talking to the cop who had showed up at the crime scene when they were murdered. Eric tells the cop "Little things always were important to Shelley [the fiancee]. I always thought they were kind of trivial. Believe me, nothing is trivial." That led into talking about my English teacher and the little things he did to earn my respect and trust and so on. It was a lovely essay and I'm sure the admissions office TOTALLY missed the undertone of how I had a massive crush on the teacher.
Any advice for teenagers applying to college? 
This may sound corny, but be confident, do your homework, and be yourself. It still serves me in a professional aspect as well. I know my stuff and display that, but I also don't try to make myself be anything I'm not. Which means that I made clear that I am good student with these academic interests and here's the track record to prove it, but I also write about The Crow in my college essay and made sure my hair was properly shaved and dyed purple when I moved into my dorm.

Name and College: 
Rebecca, University of Michigan
Topic:
My search for, and reunion with, my biological parents.
Tell us about it: 
When I was applying for college, it was much more difficult to search for and connect with people. I used the essay to show certain skills and traits that I thought were important about mead well as a topic I am passionate about: adoption. So I was able to write about tenacity, perseverance, empathy with my parents and with my biological parents, overcoming obstacles and fear, and the amount of research and questioning involved, of myself and others. It was a great way to express who I am and what my interests are.
Any advice for teenagers applying to college? 
Don't get too hung up on perfection. Be yourself. Universities are looking for people. So you might be the best student, but if you aren't sure of who you are, the they won't want you. Trust in yourself and what you are interested in and what you want to explore during college. That person is who they want to have in campus, the curious, the open, the adventurous you.

Name and College: 
Bevin Keefer, Villa Julie (currently Stevenson University), and Harford Community College
Topic:
"Choose your own topic."
Tell us about it: 
Why world renowned tap dancer and B-list actress Ann Miller should be someone we all look up to. I chose it because I hated writing, but I LOVED Ann Miller. It just seemed like the most painless way to get the damn thing done.
Any advice for teenagers applying to college? 
Honestly, people will tell you to do you're passionate about, and they are so incredibly right! Even if you don't know right away what that is, it pays to look around until you find it.

Name and College: 
Brianne Sperber, New York University CAS
Topic:
Watching my father get a pair of ducklings to a pond, across a very busy intersection.
Tell us about it: 
Growing up, my father was a very stern man. He was rigid, hard, and oftentimes extremely callous. After he chose to be sober, around the time I was 13, I saw a side of my father I never knew. He became kinder, gentler, and his tone of voice softened. We left a diner outside of our hometown one Sunday morning, a routine of ours, and across the street I saw two ducklings stranded. On the other side of the road, we heard honking. I was so distraught and panicked for the ducks. I can't really recall now just how I convinced my father to do it, but he saw my emotional state and took action. In many ways, to me, this signified the person my father always was and hid from us for so long. This small action of love for another creature became almost a metaphor for our own relationship. It reminded me just how good of a person he was, deep down, beneath all of his addictions. His sobriety was what helped me personally get through a tough time in my life—getting ready to graduate and move on to college—and this one act of selflessness showed me that I could rely on him to help me navigate the rest of my adult life.
Any advice for teenagers applying to college? 
Learn how to talk about yourself and embrace all of your qualities. It's a skill I wish I'd learned then and which will help you for the rest of your life. From writing your college essay to writing cover letters, it's the most valuable skill you will ever master. Even beyond graduating with a 4.0.<

Name and College: 
Nora, University of Colorado at Boulder
Topic:
My biological mother, who I had never met before.
Tell us about it: 
I wrote about how we have to sacrifice (like placing me for adoption) in order to achieve the greatest good (her being able to take care of the kid she had and my being able to have opportunities I wouldn't have otherwise had). It was really relevant to me at the time because I had just had a child and was a single parent so I understood the position. I wanted to go back to school to make sure I could give the best life to myself and my child, and do whatever I could to improve the world. All those things take an enormous amount of sacrifice. But they're worth it!
Any advice for teenagers applying to college? 
Be yourself, but make sure your conclusion is like something out of a movie. That's the last thing they read before making a decision. Make it stand out.

Name and College: 
Erin Drew Whelan, Rutgers University
Topic:
Being left-handed in a right-handed world. Discrimination against lefties, basically.
Tell us about it: 
I wrote this particular essay for Carnegie-Mellon. Most schools gave me something specific to write about but no, no, not the folks at Carnegie-Mellon. They wanted a fresh sample of expository writing on a subject of MY choosing. What a bummer. By the time I got around the writing it, I was so frustrated by the whole college application process that I decided to choose a ridiculous topic and do my best to make it sound super serious and legitimate. It was subtle middle finger—I chose to write about being left-handed and how I've thrived despite being forced to cut with righty scissors and contort myself to fit into righty desks etc.  I guess it was okay because I got in. Too bad I was so fed up with essays that I didn't save a copy of it! That's probably my only regret in life.
Any advice for teenagers applying to college? 
Present yourself as honestly and authentically as possible. Don't worry so much about what colleges want from you that you forget your greatest asset is yourself.

Name and College: 
Lyssa Mandel, Northwestern University, 2005
Topic:
Stepping in gum in brand new shoes.
Tell us about it: 
I was in New York for a summer creative writing program, and I had just purchased these perfect, butter-yellow flip-flips that I was wearing in and around Columbia's campus. They were a one-inch platform, and there was a cluster of yellow flowers at the cross of the thong. I loved them; I practically bounced when I wore them. The second day with brand new shoes, I was crossing the median on Broadway on the Upper West Side, where brick "resting areas" with benches and trees divide the double-wide avenue. And I stepped in a piece of gum. It was hot as hell outside, so the gum was extra melty, and each step I took was like lifting my left leg out of quick sand. I was furious. I waited overnight for the gum to dry, when I was going to attempt to peel it off cleanly. But the next day, I saw that the gum had hardened into the shape of a butterfly wing. And perfectionist me—the girl who hoarded notebooks that she never used because she was afraid of soiling their pristine pages—noticed that "mistake" as beauty for one of the first times in my life, and it seemed momentous.
I made a HUGE mountain out of a TINY molehill. And so began my career as an English major.
Any advice for teenagers applying to college? 
See above! BE OKAY with less-than-perfection. We all take college for granted these days, since so, so many of us just go without thinking about an alternative. But REMEMBER: you are in school for YOU. Enjoy it. Take classes that sound interesting even if they have nothing to do with your chosen "career." Expand yourself. Explore. Don't let yourself get bored... there'll be plenty of time for that later.
p.s. I wrote about how I never got cast in any shows so I decided to become a stage manager to stay part of the community, because yay theatre!