You Don't Have to Be Home for Christmas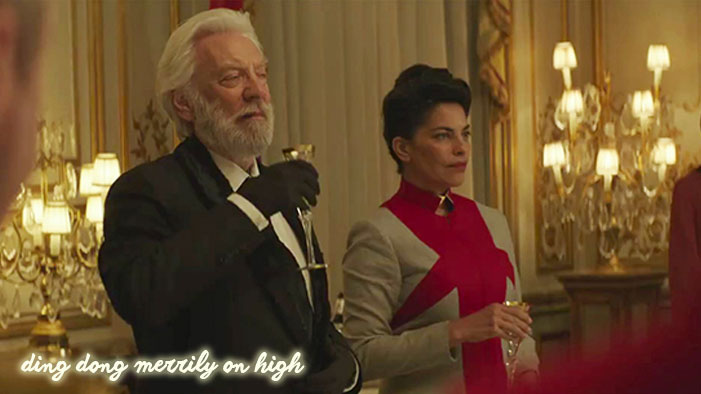 This is a post I wish I had been able to read in my freshman year of college. In that time of my life, my dad was in and out of jail. My parents were in the process of getting divorced. It was an incredibly chaotic year, and I felt I couldn't really talk to anyone in my family about what I was feeling. I didn't even have many friends at school because I still hadn't grown out of my high-school shyness.
When it came to go home for winter break, I was ready to just avoid the whole thing. But like a lot of people, I felt obligated to go by family. It was tense and weird, as I'm sure a lot of your Christmases have been.
I wish that someone had pulled me aside and said, "Hey sweetie? You don't have to go home. You can just do your own thing and do what makes you happy. You're allowed to do that. And if anyone is butthurt about it, that is their problem."
Because that's how the world actually works. We've been raised to think that you have to go home for Christmas because that's what happens in every movie. That's what we did when we were too young to drive ourselves anywhere and our parents ran the show on holidays. But let me reassure you: You do not have to spend the holidays in a home where you feel unsafe, unhappy or drained, and must sit in silence, shoveling marshmallow yams sadly into your mouth. The universe does not require you to do that. In fact, you're not at your best in the universe if you do that. So you definitely shouldn't. Haven't you heard of friendmas?!
Here are your options if your dad is an actual, living breathing Krampus.
Your dorm may let you stay over the holiday break.
Not all colleges will do this, but you will never know until you ask. You'd be surprised at how often colleges stay open during vacations. Staying nearby would save you a ton of money. You'd also be able to explore the area surrounding your college with total freedom. Solo winter wonderland walks through the Forbidden Forest, anyone?
Seek out activities for international students.
The true magic of college is that you can interact with people from literally any country on the planet. And guess what? Not every country celebrates Christmas to the same crazy extent that we do.
Most colleges with strong international programs have activities or alternative housing options for students who can't afford the trip back home (pretty much every bronzed Kiwi named Dave or Stevo). Ask your Student Union for resources on where to find that information. You may walk away from the experience with some new besties!
You can stay at a hotel (or even better, a hostel or co-op).
This will undoubtedly cost a little more money than staying in the dorms. But if you're working most of the year and have some cash set aside, why not treat yo'self?
Some hotels may not allow you to rent a room at age 18 (Holden didn't have a problem), but screw your courage to the sticking place and keep looking. Hostels frequently have student rates and even holiday-centered specials. They're also a lot more homey and may have special holiday activities planned for the lost sheep looking for a bed and some hot cocoa. If you're attending a college with hippie roots, ask the local co-ops if they have a Traveler's Room that they can rent out over the holidays. You'll likely be allowed to use their kitchen and bathrooms in exchange for some help with chores. But that's a small price to pay for staying in a huge, roomy house over the holidays.
Fraternity and sorority houses may have spare beds.
Despite what we've seen in '80s movies, most fraternities and sororities are full of nice people. Greek life attracts people who are sociable and extroverted—think your high-school class president who knew everyone's name.
But back to Christmas: Call up sororities and fraternities to see if they'll rent out a bedroom or guest room over the holidays. Most houses do activities around this time anyway. There's a good chance someone will be around and can open the house to a wandering nerd.
Friends may take you along to their Christmases.
MAYBE MOLLY WEASLEY WILL KNIT YOU YOUR OWN CHRISTMAS SWEATER! This is by far the most fun option of the five, but it involves some initial weirdness. Not all of your friends will understand not wanting to be with your family over Christmas, or their image of you may change. But if you're sticking up for your mental health, the right people will pick up on that and support you.
The most important thing is to not be afraid to ask if you can come along to someone else's holiday. You'd be surprised how warmly people may take the idea, especially if they're going on a long road trip or are dreading going home themselves. You may be called upon to be a buffer between them and their family.
You have to approach it delicately. Announce your decision not to go home for Christmas first, then joke about requesting a place to stay. The best phrase I've heard is: "I don't think going home is going to work out for me. So if anyone wants to take in a Christmas Orphan, just let me know!"
All in all, you're not a bad person if you don't want to go home for the holidays. There are dozens of good reasons for not wanting to do it. And even if you have a "bad reason," (i.e., just not wanting to go), it's still worth letting yourself think about it. It's worth taking it into consideration.
Because there's one rule of celebrating the holidays that should always be taken into account: You are responsible for your own good time. If that good time means eating two dozen candy canes and watching Teen Wolf with the kids from Korea who couldn't afford to go home, you go for that. Everyone deserves a good Christmas, even if it's not what we see on the holiday specials.