What Your Fall Headgear Is Saying About You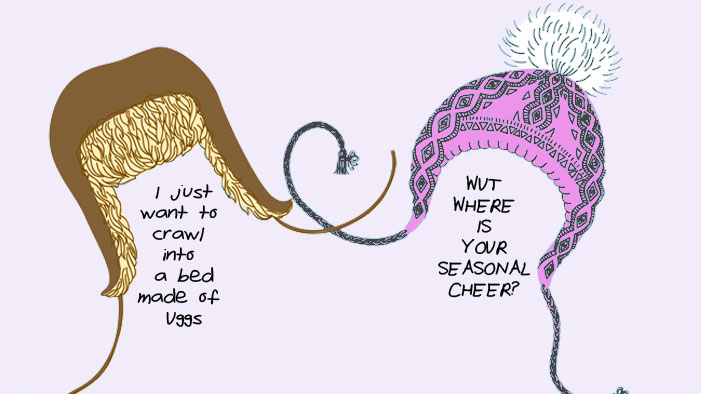 It's getting cold. So how do you keep your Haymitch-Katniss fantasy generator (noggin) warm? If you're Haymitch, you reach for a sad burglar beanie like the broken dorsal fin you are, but if you're Katniss you'll probably don a one-shouldered vest and stubbornly let your head freeze because you're difficult by nature.
What do you put on your head when the weather gets cold? You may not know it, but your choice of head-warmer is sending out some serious signals. You may want to tune in...
Slouchie Beanie
"I'm a free spirit and that means I refuse to wear anything weather appropriate below my neck. I'm freezing my buns off in these tights, so thank my lucky stars this is lined with fleece."
Hipster Beanie with Pom-Pom(s)
"I didn't make this myself, but I wish I did. Do you know some underclassmen that could make one for me? Pom poms are a hipster's merit badge."
Snugly Knit Beanie
"I am heading to the slopes after school so fast after school not even a Candy Cane Frappuccino will be able to stop me. I may also go for a long run in the bitter wind after the sun goes down. Either way, don't talk to me."
Beanie Knit to Look Like an Acorn, Pumpkin or Candy Corn
"While you were all busy anthropomorphising your dogs as little Links, I was representing the spirit of the harvest. WHERE IS YOUR SEASONAL CHEER?"
Long Tail Hat
"I am the most confident person you will ever meet in your life. Also, no one will ever love autumn as much as I do."
Classic Earmuffs
"These match my books, coat buttons and boots precisely. Now come on, we have some serious pumpkin-patch harvesting to do then I've got a cold case from 1940 to solve."
Furry Earmuffs
"Call me a snow bunny. Just do it. I dare you. I'll secretly love it but I'll pretend I hate it because I don't want people to think I'm like that girl on Scream Queens."
Over-Under Earmuffs
"I love the streamlined shape of these so much, I might just wear them inside. By 'accident,' of course. Maybe I'll wear them to the Steve Jobs premiere…"
Chipmunk Earmuffs (Or any Other Novelty Shape)
"CHIPMUNKS ARE MY PATRONUS. What's yours?!"
Knit Hat with Ear Flaps
"It's so warm and cozy under here! Flat hair never bothered me, anyway."
Knit Headband
"That's right. I'm warm and fashionable. Functionally warm, but rocking the bright cuteness. And my hair's still perfectly straight! Jealous much?" *sings Vogue to self*
Scarf Tied as Headband
"I don't need your conventional scarf usage, It's sooooo much more efficient to wear it this way. By the way, you should come up to me if you want any information about Conservation Club. I'll know where and when the meetings are held. Guaranteed."
Hijab
"This has nothing to do with fall. Why is it people are ONLY JUST AWARE that some of us wear hijabs?"
Fedora
"I have no time for cold weather. The choir concert and fall theater production wait for no one, people."
Relaxed Fedora
"Blergh, haha, I just saw Annie Hall for the first time and my life has been totally changed. Ugh did that sound dumb? What. A. Yo. Yo."
Felt Fedora With Ribbon
"If you bump into me and crush my hat, I swear to all that is holy that I will sic the Strategic Secret Reserve on you. Do you know how much work it takes to make it this jaunty? Ditto for if you touch my ribbon with anything."
Baseball Cap
"Yes, I know it's not spring. Why do you ask?"
Cloche
"I either discovered the custom hat shop downtown or received the worst short haircut ever. Either way, I'm not taking this off indoors."
Floppy Wide-Brimmed Hat
"I'm hoping that by pairing this with sunglasses, no one will pick up on the fact that I was lazy to go shopping for a post-summer hat."
None (High Collar)
"Do I look as cool as Sherlock? I hope I look as cool as Sherlock. You need high cheekbones to carry off this look."
Nothing (Exposed Head and Ears)
"Oh, my ears are so cold. Won't someone come warm them up for me? No, not you. I mean someone with mittens. Le sigh. Won't someone come warm me up??"
Ugg Boot
"I chose Dare."