This Three-Year-Old Gave the Most Intense Motivational Speech You'll EVER SEE
What you're about to witness is either one of two things: the cutest three-year-old on the planet delivering her rendition of Shia LaBeouf's famous motivational speech, or Shia LeBeouf on helium dressed as Boo from Monsters Inc. Regardless, it's been scientifically proven that this video drives eleven out of ten viewers to carpe the living HECK out of their diem. Before you press play, conjure your wildest, most theoretically unattainable aspirations, and then brace yourselves, because you're about to feel like you just knocked back SEVENTEEN ESPRESSOS AND A TUB OF SALSA VERDE.
YOU ARE SO RIGHT, ADORABLE PIPSQUEAK IN A HEADBAND. The number of qualms being had right now are ZERO. WE WILL JUST DO IT. Do what, you ask? That is for us to know and you to find out when the world's largest cheese fry-themed amusement park opens up in New York City.
But because you know that this was a spoof on Monsieur LaBeouf (which makes it a work of toddler genius—seriously, she spits it all back verbatim except at one thousand decibels higher), we have to ask you to compare. WARNING: Turn your volume down five bloops before watching.
Now that your blood pressure is at a sufficient level of A MILLION PERCENT, we leave you with the question: Which human green screen foreground got you more motivated?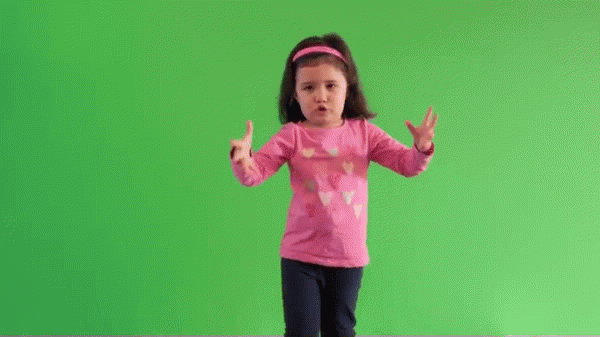 Gif via Youtube/Tingman

OR

Gif via Youtube/Mike Mohamed
Poll Question
I HAVE BLOSSOMED OUT OF MY UNMOTIVATED COCOON THANKS TO