You Will Be ELECTRIFIED by The Hunger Games: Mockingjay Part 1 Trailer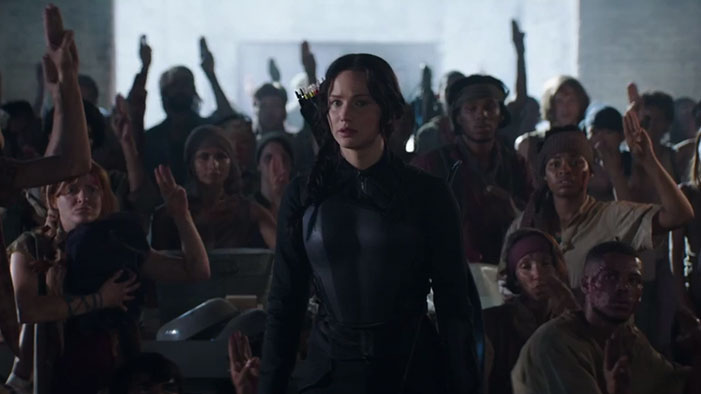 Sweep your arm hairs flat, Sparklers, because THEY ARE ABOUT TO RECEIVE TEN THOUSAND VOLTS OF FREAKOUT. The Mockingjay Part 1 trailer is HEREEEEE, and it has Prim and fire and devastation and revolution hair and tears and music that goes right up your spine into your dream catcher!!! PREPARE YOURSELVES:
... We have inserted a glucose lozenge under our tongues after succumbing to the awesome, and are now here in a semi-daze to guide you through the most BLOCKBUSTER moments of this eyeball-destroying trailer...
Thanks to Donald Sutherland, aka President "Stone Cold" Snow, we will now suffer a Pavlovian shudder every time we see a dark turtleneck sweater on an evil Santa.
"It is the things we love most that destroy us." Ughhhrjrkt so ominous.
Effie, sassed up in dowdy prison clothing, is halfway to melting our frigid hearts out of their nuclear winter with her affixing of Katniss's pin to show "we're a team."
Gulp.
THE NEW GALE IS MADE OF 100% DYNAMITE, EYEBROWS AND MANLINESS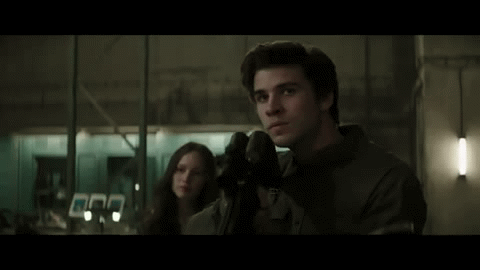 BOOM.
Peeta is in a bad prom tux on TV and we are VERY, VERY WORRIED. So is Katniss...
They are so far from the cave of cuddles right now that we are in serious danger of weeping ourselves right into a storm drain :/
Katniss doesn't like her new game makers.
"You will rescue Peeta at the earliest opportunity or you will Find. Another. Mockingjay."
FINNICK'S FACE. THE ANNIES, THE PEETAS, THE ELECTRIFIED HAIRS ON OUR NECKS. 
(YES, WE NEEDED TO PUT IT HERE IN SLOW MOTION.)
The revolution has gotten very, very real. Voltage level: Aerosmith's Rockin' Rollercoaster at DisneyWorld.
*silent salute for District 9*
I DON'T CARE IF HE DRINKS TOO MUCH BUTTERBEER, HAYMITCH HAS MY WHOLE HEART IN HIS KNIT CAP FOREVER.
AAAAAAHHHHHHHHHHGGGGGHHHHHHHHHHHHHHH
NOVEMBER 21!!! NOVEMBER 21!!! CRESSIDA! PEETA! GALE! HAYMITCH! EFFIE! FIRE-TIPPED ARROWS! FULL-BODY MELTDOWNS!
How are you going to last to November? Did your heart basically explode like these hovercrafts when you saw the trailer? Which worried face hits you hardest out of Finnick/Katniss/Haymitch? HOW CAN WE WAIT? HOW WILL WE LAST? IS THIS THE BEST TRAILER OF ALL TIME?!!