Meet the Buttkickers From the U.S. Women's Ski Jumping Team!
In just a few weeks in Sochi, Russia, female ski jumpers are going to go hooning through the air at the Winter Olympics for the first time in history, in a major win for gender equality and winter sports. Athletes like Sarah Hendrickson and Lindsey Van (along with some very supportive parents and coaches) have been leading the charge since their days as juniors to be included in the top level of competition in their sport, eventually suing the organizers of the Games to make their point more forcefully. Like snowboard and freestyle pioneers Kelly Clark and Sarah Burke before them, the women on the U.S. ski jump team had to convince critics that their wombs aren't going to break through ski jumping, that they're mentally tough enough, and that excluding them from the sport was a grave injustice. Girls, they argued, can really fly. (Hendrickson, in a jump that equaled those of male counterparts, overshot a jump altogether, damaging several ligaments in the process.)
What does this sport look like? Uh, like a metaphorical heart being LITERALLY SET AFLIGHT ON THE WINGS OF A UNICORN...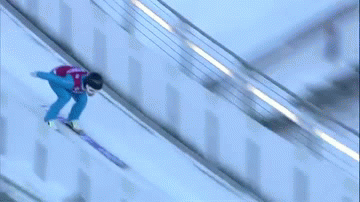 Lindsey Van at the Olympic trials
Last weekend at the World Cup, the U.S. women's ski jump team finished second overall, with three finishers in the top 15—Lindsey Van, Jessica Jerome, and Alissa Johnson—setting the stage for an awesome Winter Games in Sochi. As someone who double-ejected from her skis just last weekend trying to stick a jump, my respect is basically off the charts, frantically winding down the windows.
So who are these trailblazers? They're young, fearless athletes who have been training year-round in Park City, UT, and Lake Placid, NY, to get in optimal condition for an incredibly competitive Olympic debut. Crush-o-meter = OUT OF CONTROL OVER ONE AND A HALF FOOTBALL FIELDS. 
(Source: Dan Campbell/WSJUSA)
MEET THE STAR ATHLETES! FOLLOW THEM ON ALL THE SOCIAL PLACES!
These athletes already have a lot going for them, but you can give them the edge by joining their support teams online, and getting to know some of the U.S. ski team's stars:
Sarah Hendrickson, born Salt Lake City, UT, 2013 World Champ: @schendrickson / Instagram
Lindsey Van, born Gross Point, ME, 2009 World Champ (first ever): @lindseyvan / Instagram
Jessica Jerome, born Jacksonville, FL, 1st place 2014 Olympic trials: @jessicajerome / Instagram
Abby Hughes, born Salt Lake City, UT, 2012-2013, 9 top 20 finishes, World Cup circuit: @abbyphughes / Instagram
Alissa Johnson, born Platsburg, NY, 2012-2013, 16 top-30 finishes, World Cup circuit: @johnsonalissa / Instagram
Nina Lussi, born Lake Placid, NY, 2013, 4th, U.S. National Championships (NH): @ninalussi / Instagram
Nita Englund, born Iron Mountain, MI, 2010, 2011, 2012 - Junior World Championships team member
You can find out a bit more about their back story, and how far they've come in squirrel suits JUST TO GET TO THE GAMES in the FEELSY video below. You can also support the girls via a donation here.
So. Many. Feels.
Here's one more to get your inner cowbell clanking:

(source: Sarah Brunson/USSA)
Are you so proud of these awesome athletes? Are you going to follow them as they take on Sochi?